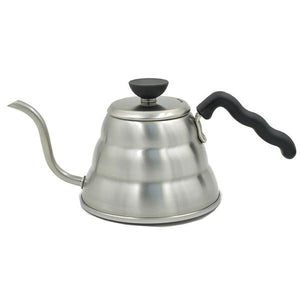 Hario Buono Kettle
Sale price Price R 949.00 Regular price Unit price / per
Tax included.
Easy to pour, coffee drip kettle with a slim spout

This drip kettle with a slim spout makes it easier to control the amount and speed of hot water being poured, making it useful when brewing a V60. You can place it directly on a gas or electric stove and heat up the water in it, or you can use your electric kettle for a quick boil and just pour the hot water into the Buono Kettle for more precise control. Because of its comfortable grip & balance, many speciality coffee roasters use this kettle as an accessory for all manual brew methods.
Product features
Sturdy stainless steel & plastic construction
Balanced design for ease of pouring
Slim spout allowing for a slow, measured flow of water
Suitable for gas or electric stoves
Size Guide
The Hario Buono Kettle actually comes in two sizes - 1L & 1.2L. As they are harder to use when completely full, their effective capacities are closer to ~600ml & ~800ml (when filled to a volume allowing for easy and controlled pouring).
The difference in price between the two is very small, and we much prefer the balance of the larger 1.2L (800ml effective) model. We also find that the extra capacity is helpful even for smaller pour-overs when heat dissipation is taken into consideration. As such, we always recommend, the larger size, which is held in stock, but we can source the smaller Hario Buono Kettle (1L, 600ml effective) upon order.