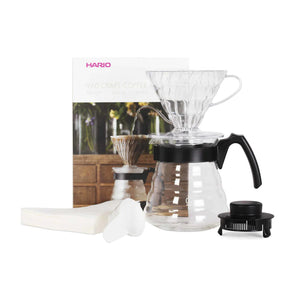 HARIO CRAFT COFFEE MAKER POUR-OVER SET - PLASTIC
Sale price Price R 729.00 Regular price R 0.00 Unit price / per
Tax included.
Occasionally, the addition of a few extra pieces of equipment can really help complete a coffee-making experience and this bundle includes some of the accessories that you need to make delicious pour-over coffee with the Hario V60 coffee dripper. Included in the pack you get a Hario decanter and lid, a clear plastic V60 size 02 dripper, 40 paper coffee filters and a 12g Hario coffee scoop.
This bundle not only gives you all the basics you need to make pour-over coffee (except a kettle, a coffee grinder, perhaps a scale, and, of course, the coffee beans), but it also will help make the whole process look beautiful thanks to the distinct Hario aesthetic. Even better, you're getting all these items at a special bundle price.
This bundle will make a great gift for yourself or for a coffee-loving friend or family member.
What's in the Hario V60 Craft Coffee Maker box
Size 02 Hario V60 Clear Plastic Dripper
Hario decanter & lid
40 x Hario size 02 paper filters
Hario measuring spoon
About The V60 Coffee Dripper
The Hario V60 Coffee Dripper has been at the epicentre of the surging interest in speciality coffee in South Africa and across the world. It embodies the movement that has (re)embraced hand-brewed coffee alongside the more traditional espresso-based coffee culture. 
The V60 coffee dripper embodies simplicity, and this sleek and beautifully-engineered little cone allows delicious coffee to be made easily and affordably. The style of coffee the V60 makes is very different from espresso - a nod to the past as much as it is a part of a new world of coffee. It is filter coffee but filter coffee made with precise control over brewing variables, allowing the natural flavours of the coffee you're drinking to shine. This tendency to highlight, rather than alter the coffee's characteristics explains why it has been adopted by many roasters of high-quality, single-origin coffee beans all over the world.
If you're an adventurous coffee drinker who likes to explore different flavours and experiment with brewing variables, the Hario V60 Coffee Dripper is an essential piece of coffee equipment to own.
Hario V60 Coffee Dripper product features & specifications
A large opening at the bottom to facilitate even flow of water
Internal ridges to keep the paper from sticking to the sides, preventing channels from forming
Spiral ridges assist in making water turn supporting even extraction
Sits comfortably on most cups, mugs, milk-frothing jugs or servers
Easy to clean
Heat resistant
Hario Decanter product features & specifications
Made of high-quality borosilicate glass & AS resin
Dishwasher safe
Plastic handle and lid
1-4 cups (~600ml) capacity