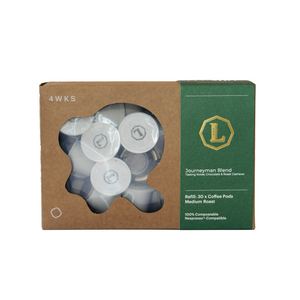 Journeyman Blend Capsules
Sale price Price R 315.00 Regular price Unit price / per
Tax included.
30 Compostable Capsules
Introducing "Journeyman" Coffee Pods, where craftsmanship meets innovation. Inspired by the spirit of journeymen who master their trade, our Journeyman coffee blend embodies the essence of discovery and growth.

Embark on a coffee journey like no other, as we curate a delightful blend that serves as a "training ground" for coffees on their path to specialty excellence. Just as journeymen refine their skills and seek mastery, we've carefully crafted this blend to help coffee beans find their trade route to perfection.

With Tasting Notes of rich Chocolate and the subtle warmth of Roast Cashews, Journeyman offers a sensory adventure that will captivate your palate. Each sip of Journeyman Coffee is an invitation to witness the potential of coffee beans as they evolve from novice to artisan. It's a testament to the dedication and passion we pour into every pod, ensuring that your coffee experience is nothing short of exceptional.

Join us on this coffee expedition, where tradition meets innovation, and each cup is a step towards perfection. Journeyman Coffee Pods - Crafted for those who savor the art of coffee.
Thirty compostable coffee pods to refill your Pod Jar! Zero plastic or aluminium. Our refill pouch is fully compostable